NATRUE and Beauty Garden co-exhibited again in NATEXPO 2021, the biggest organic trade show in France, which took place from 24 to 26 October in Paris. The event took place at the largest pavilion in the Parc des Expositions de Paris Nord Villepinte and involved 2,500 brands -from producers to manufacturers, distributors, and specialists – presenting the latest products and innovations in the natural and organic sector.
New edition with record figures
After an atypical 2020 due to the pandemic, face-to-face events can now take place again. This has been the case of NATEXPO 2021, that reported a record attendance, welcoming more than 15,500 visitors during the three days that the fair lasted.
A total of 40,000 m2 showground was packed with the stands of thousands of companies, ranging from small companies to organic pioneers. According to the organization, the pandemic "did not allow the presence of large internationals", but even so, 13% of companies came from overseas including countries such as Italy, Belgium, Germany, Spain, the Netherlands, Switzerland or the United States.
The numbers

Natexpo 2021 hosted 1,177 exhibitors (compared to 1,115 in 2019), representing a total of 2,500 brands. Of these, around 160 stands were focused on cosmetics – an encouraging 20% increase on 2019 attendance. In addition, the event offered forum spaces to host around 150 discussions and presentations – some of them available here – where brands, buyers, and producers had the opportunity to share the latest NDP and news.
Trends that rule in 2021
The unprecedented crisis that we have suffered has been accompanied by a profound change in consumer habits, which has resulted in new and developing trends: the variety of products has grown; distribution has expanded, and consumers have confirmed their desire for more natural and responsible products both for their own skin and for the environment. The most obvious example is seen in the increase in demand for natural hand sanitizers and disinfectants, in both gel and foam formats.
Moreover, at this trade fair is has also become clear that solid and powder cosmetics – especially deodorants and soaps- continue to be a growing trend. This data confirms it: in 2020, sales of solid shampoos in large and medium-sized stores reached a growth of 422% in value[1]
Finally, the trend that started a few years ago in favor of waste-free packaging continues to grow. More and more companies are opting for waste-free packaging: biodegradable, compostable, plastic-free, and reusable.
Beauty Garden, again NATRUE's co-exhibitor in NATEXPO 2021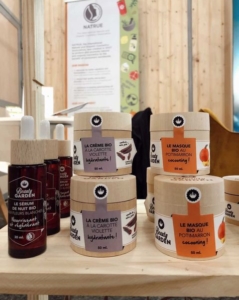 When asked what the NATRUE Label means for Beauty Garden, Marie Bardou Chazalette, representative for the Beauty Garden brand, replied:  "We feel NATRUE is more than just a label and we see the relationship between Beauty Garden and NATRUE as a real partnership. They are valuable advisers on international regulatory issues, they are the voice of the natural and organic sector at international level and they promote the NATRUE Label as well as its brands at various international trade shows, such as VIVANESS and Natexpo".
"We are proud to co-exhibit with NATRUE at NATEXPO two years in a row and promote high-quality cosmetics certified to the strictest Standard", she added.
Save the date!
NATEXPO 2022 will take place from 18 to 22 September 2022 in Lyon, France.
Stay tuned for more details!

[1] La cosmétique solide, un marché qui prend du poids (December 2020): https://fr.fashionnetwork.com/news/La-cosmetique-solide-un-marche-qui-prend-du-poids,1265615.html