Once again, NATRUE and Beauty Garden co-exhibited at NATEXPO 2022, the international trade show for organic products , which took place from 18 to 20 September in Lyon (France).  The event involved 1,800 brands from the natural and organic sector –from producers to manufacturers, distributors and specialists– and an opportunity to showcase their latest products and innovations.
NATRUE at NATEXPO 2022

This year NATEXPO gathered together more than 10,100 professionals over the three days of the show, an increase of +27% compared to the previous Lyon show in 2020. Moreover, this time the fair welcomed 1,800 exhibitors and brands -more than 110 stands were dedicated to cosmetic products.
In addition, the event offered 11 forum spaces to host around 200 discussions and presentations – some of them available here – where brands, buyers and producers had the opportunity to learn about the latest trends, such as zero-waste, refillable cosmetics, and eco-responsible packaging.
One of these exclusive talks was held by Viktoria Potko, NATRUE Label & Events Officer. Entitled "L'impact de la pandémie sur le marché de la cosmetique naturelle" ('The impact of the pandemic on the natural cosmetics market'), Viktoria Potko analyzed the current post-pandemic scenario, where we are seeing how consumer preferences are changing, and shoppers are looking for sustainable options and are being guided by 'environmental-friendly' claims.
NATRUE and Beauty Garden, together once again in NATEXPO 2022

Beauty Garden is a French cosmetic brand that produces organic cosmetics 'from the seed to the cream'. They are farmers, formulators and they manufacture all NATRUE certified Beauty Garden cosmetics by themselves.
When asked what they would say to a brand that wanted to join NATRUE, Marie Bardou, representative for the Beauty Garden brand, explained: "Working with the NATRUE Label and seeing the strictness of their standard and formulation requirements makes you feel safe and reassured as a consumer. When choosing a NATRUE certified cosmetic, you know that the brand behind it is truly committed to the natural and organic cosmetics sector. That is the reason why NATRUE is a label that every consumer in the world can trust".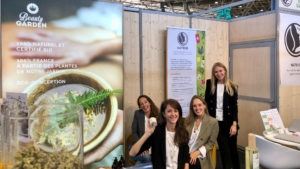 Save the date: NATEXPO 2023 will take place from 22 to 24 October 2023 in Paris
See you there!