The doors finally opened! After more than two years, the international natural and organic cosmetic sector met once again in-person at another successful edition of VIVANESS, the International Trade Fair for Natural and Organic Personal Care, which took place in Nuremberg from 26th to 29th July. Together with 176 exhibitors, NATRUE participated once again at VIVANESS as both exhibitor and as an honorary sponsor. In 2022, BIOFACH-VIVANESS brought together more than 24,000 visitors from 137 countries visited to discover new trends, sustainable practices, and initiatives.
The NATRUE Pavilion: bringing the natural cosmetics sector together
At VIVANESS 2022, the NATRUE Pavilion has hosted 4 NATRUE label users from Italy (Officinali di Montauto), Germany (Hej), Switzerland (Vedic aroma) and Peru (Mishki.) Viktoria Potko (NATRUE's Label and Events Officer) celebrated the success of the NATRUE Pavilion at VIVANESS 2022: "The NATRUE stand shows the shared values of our members and label users. It is a powerful concept that allows visitors to have a complete overview of different brands whose products are certified with the NATRUE Label. We invite our Members and Label Users to join us at VIVANES 2023 to show unity under the NATRUE Label."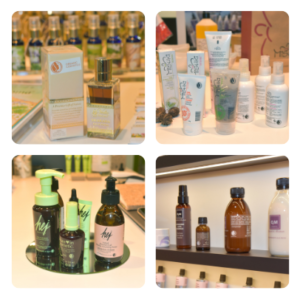 To coincide with VIVANESS, NATRUE launched its latest Annual Report, an easy-to-digest document summarising the numerous activities and contributions to the sector NATRUE's made during 2021; including participation at trade show events and conferences, contribution to evolving EU regulation and facts and figures concerning the NATRUE Label.
Dr Mark Smith (NATRUE's Director General) celebrated the launch of the Annual Report: "NATRUE has always been completely committed to the sector, our members and our label users, and our Annual Report is just a snapshot of where we are involved. We're delighted to report that over the past year through its growth there's continued recognition and support for the NATRUE Label as a benchmark not only for producers of natural cosmetics, but also for consumers who look for authentic natural and organic cosmetic products."
NATRUE as a reference
During the trade fair, NATRUE shared two informative presentations. On the first day of the show, 26th July, Dr. Bernhard Irrgang (President of NATRUE) and Dr. Mark Smith (Director General of NATRUE) shared the results of the NATRUE latest consumer study under the title "Understanding consumer attitudes to green and digital: apps, labelling and packaging". This study will be published in September on our website. Stay tuned!
On Wednesday, Dr. Mark Smith covered the latest regulatory developments impacting the natural and organic cosmetics sector. During the conference, Dr. Smith outlined the current regulatory landscape and policy proposals as a result of the emergence of initiatives linked to the European Green Deal, and how these could impact the natural and organic cosmetics sector.
Furthermore, the entire NATRUE Team was interviewed by Barbara Catozzi from Scienza Cosmetica to explain not only the work of the association but also their role in its success If you couldn't see the interview, check out this link.
VIVANESS 2022: figures and trends
The one-off Summer Edition of BIOFACH-VIVANESS provided the venue for 2,276 exhibitors from 94 countries, including 176 exhibitors from 28 countries at VIVANESS. Exhibitors presented both products and services they offered to international industry, and participants had the opportunity to attend 14 conferences -two of them offered by NATRUE- focused the latest developments through to future-oriented topics and challenges facing the two sectors.
                                                                             Photographer: Bischof & Broel
In this 2022 edition, VIVANESS focused attention to four show trends: "Less plastic", "local heroes, "natural vegan cosmetics" and "holistic haircare". These four trends reflect the growing assurances of consumers, as well as the increasing emphasis on social and environmental sustainability. Plastic reduction, reuse and recyclability remain on the consumer radar, as does the increasing demand for natural and vegan cosmetics. In addition, besides the consumers' established expectations when it comes to the characteristics of a product, how its ingredients are sourced, where from who by, and their impact upon the product's social and environmental sustainability, there is a desire to link a brand's identity to social developments such as gender-neutrality, diversity and inclusivity and other holistic approaches.
When being asked about the role of the NATRUE Pavilion in VIVANESS, Paula Gómez de Tejada (NATRUE's Communications Officer) replied: "The NATRUE Pavilion is the best way for small and medium NATRUE Label Users to promote their ethics, values, and products. As a co-exhibitor and partner NATRUE supports our members and label users' contributions by showcasing the guarantees of the NATRUE Label and the activities of the association."
Save the date: VIVANESS 2023
We are looking forward to meeting all NATRUE exhibitors and visitors in the NATRUE Pavilion next year from 14th to 17th February 2023! See you there!