Recent trend reports have indicated that consumers of cosmetic products are increasingly more aware of plastic pollution and recyclability. Today is World Environment Day with a focus on plastic pollution. NATRUE has always been committed to reducing environmental impact within the natural and organic cosmetic sector thanks to its Label criteria, which by not only focuses on what is inside but also what is outside NATRUE certified products.
Combating plastic pollution in the EU and Worldwide
Plastic pollution is an ever-growing environmental issue which is estimated up to 13 million tonnes of plastic waste ending up into the ocean each year. At an EU level, the European Commission has adopted a wide strategy targeting plastic waste last January, and aims to make all packaging in the EU market recyclable by 2030. Furthermore, the consumption of disposal plastic will be reduced and an intentional use of microplastics will be restricted according to the European commission press release.  
Today is World Environment Day, host in India, and the timely theme this year is "beat the plastic pollution" NATRUE is celebrating this day and expressing its commitment to environmental impact and sustainability though its diverse activities
NATRUE Label requirements for a better environment
Recently a number of countries have begun to adopt legislation, and the European cosmetics industry has generated initiatives to significantly reduce microplastic impact. Yet, since its creation 10 years ago the NATRUE Label criteria has always prohibited the use of microplastics, as well as setting requirements for packaging and disposable carrier materials like wet wipes; always having in mind to reach better sustainability practices. 
Being attentive to a high-quality standard for natural and organic cosmetics products, the NATRUE Label's authenticity reflects not only what is on the inside but aims to minimise the environmental impact of what is outside too.
In addition of to this end, packaging is something that has been taken with particular attention in the NATRUE criteria over the years.
Looking to the future: Sustainable plastics
Lowering waste and reducing environmental impact, as well as respect for sustainable biodiversity, are concerns that motivate NATRUE's commitment to guarantee the vital continuity of high quality natural and organic beauty products. Aside from the NATRUE label, NATRUE's dedication to the sector extends to its research activity. In 2017, NATRUE joined the EU-funded project URBIOFIN, aiming to transform and valorise Municipal Solid Waste (MSW) into new products with high industrial interests including cosmetic packaging for a sustainable future.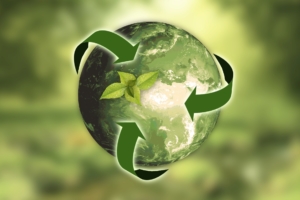 What can you do?
Take part to actions and activities worldwide, like beach clean-up. Find the nearest event next to you here
You can also join the global game of #BeatPlasticPollution tag, by sharing on your social media about this issue and rally your friends and family for the #WorldEnvironmentDay
Together we can beat plastic pollution!