On 23 November NATRUE champions natural and sustainable beauty with a motivational initiative: an international Day of Natural Cosmetics. The focus of the day is to encourage producers, manufacturers, and distributors of natural and organic cosmetics, as well as organisations and individuals to promote natural cosmetics and inspire and motivate both the beauty industry and beauty consumer.
The global awareness day, spearheaded by NATRUE, promotes the benefits – for both people and planet – of truly natural cosmetics, and inspires us all to #choosetruebeauty.
NATRUE is the international non-profit organisation behind the acclaimed international standard for certification of natural and organic cosmetics, which sets strict criteria for third-party certification of natural and organic beauty products, to distinguish truly natural cosmetics from the myriad nature-inspired products on the market, and to help consumers navigate through the 'greenwash'.
NATRUE became a Partner of Consumer Information for SCP of the One Planet Network in 2019. The International Day of Natural Cosmetics is a recognised project included in the One Planet Network's Knowledge centre that offers the best resources about sustainable consumption and production from around the world. Further details on this project, together with other resources from NATRUE, can be found here.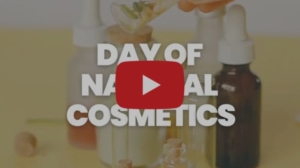 Day of Natural Cosmetics 2022
In 2022, NATRUE has brought together producers, manufacturers and distributors of natural and organic cosmetics from all over the word in a video-project. Divided into four different sections, the film puts a face to people who dedicate their lives to working for truly organic and natural cosmetics. Furthermore, the day serves to inspire consumers and motivate them to #choosetruebeauty. Curious to know more? Watch the videos!
Lastly, to know more about us, NATRUE took advantage of this opportunity to introduce some of the team behind NATRUE: the NATRUE Secretariat and the Board of Directors (BOD) – made up of representatives of the pioneering companies and the largest producers of authentic Natural and Organic Cosmetic products in Europe.
Media Kit 2022
Why NATRUE celebrates the Day of Natural Cosmetics?