PROJECTS
NATRUE has been (and currently is) involved in different projects in the fields of scientific research/innovation and regulatory affairs, where it provides expertise. Through its participation in these projects, NATRUE actively plays a key role in addressing both challenges and opportunities in the Natural and Organic Cosmetics sector.
URBIOFIN (2017-2022) 

NATRUE is a partner of the EU-funded industry consortium initiative, URBIOFIN. The project aims to transform the organic part of municipal solid waste into biobased products, including product packaging, in order to move towards a more sustainable bioeconomy.
URBIOFIN is coordinated by the Spanish engineering company IMECAL and has received funding under the European Union's Horizon 2020 research and innovation programme under grant No 745785.
For more information on the project, click here.
"KEEPING GMOs OUT OF ORGANICS" (2014-2017)         

NATRUE was a member of the IFOAM-EU 2014-17 Roundtable initiative: "Keeping GMOs out of Organics". The project aimed to develop new practical strategies and to strengthen the current legal frameworks to protect the GMO-free food chain against GMO contamination. Raw materials from agriculture are the basis for many NATRUE compliant ingredients and GMOs are prohibited as part of the NATRUE Criteria. NATRUE's participation in this IFOAM initiative was essential to help secure the quality of our ingredients. Further information on the Keeping GMOs out of Organics initiative can be found at Keeping GMOs out of organics.
ORGANIC FOR SURFACTANTS – O4S (2012-2014)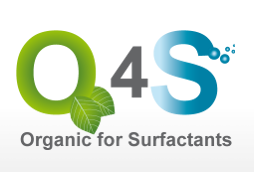 NATRUE took part in a three-year EU-funded (grant #262507) consortium collaborative research project (from Jan 2012 to Dec 2014) partnered with the Fraunhofer IGB research institute to develop new biosurfactants produced from the fermentation of organic waste products from organic agriculture. The surfactants were developed in accordance with the NATRUE Criteria. The project addressed a critical need of the EU natural cosmetic sector, which lacks a sustainable source of surfactants that can both be considered as natural and certified of organic origin. More information on the project can be found at Organic for Surfactants.
BNAEOPC (2013)
NATRUE & BNAEOPC (Bulgarian National Association Essential Oils, Perfumery and Cosmetics) worked together thanks to the EU-funded project "Grants without Boarders" (Project: BG051PO001-7.0.07-0087). NATRUE and Pfeiffer Consulting helped Bulgarian cosmetics companies to produce authentic Natural and Organic Cosmetics according to the NATRUE Label Criteria through the exchange of best practices and providing technical know-how and training.
SCRIPT PROJECT:  THAILAND-EU COOPERATION (2011-2013)
The EU provided funding to a number of Thai companies to certify to the NATRUE Label criteria in order to enable these companies to penetrate the EU market. Furthermore, the EU informed through a press release that the NATRUE Label criteria had been the chosen one as it was considered to be reliable and strict. This project also had the added benefit of increasing the Thai trade potential by setting an example of correct implementation of self-control and third party certification procedures inspired by the EU approach. The project ended in July 2013 with five of the twenty-six original companies who submitted their candidacy being selected as the finalists. More information on the project can be found here.
Market and consumer studies
NATRUE's consumer study 2022 - Key findings
NATRUE's consumer study 2021 - Key findings
NATRUE_Exploring the territory of natural and organic cosmetics
CASE STUDIES
NATRUE's case study - Testing the Applicability of the Guidelines for Providing Product Sustainability Information (UN Environment)