Save the Date
NATRUE at VIVANESS 2020
The international natural and organic cosmetics and personal care sector will meet from 12 to 15 February 2020 in Nuremberg for VIVANESS, the International Trade Fair for Natural and Organic Personal Care. NATRUE, the non-profit International Natural and Organic Cosmetics Association and official honorary sponsor of VIVANESS, will co-exhibit on the NATRUE Pavilion with brands and manufacturers of the natural and organic cosmetic sector and will present the latest updates in NATRUE's Standard.
A new concept: the NATRUE Village
Having the NATRUE Pavilion at its center, the NATRUE Village will be a brand-new concept whose objective is to bring NATRUE members, label users and NATRUE Approved Certifiers together to show the common values for high quality, transparency and authenticity that the NATRUE Label represents. As in previous years, the NATRUE Pavilion will host NATRUE's joint stand with label users from various countries, such as Germany, France, Italy and Switzerland. The stands surrounding the NATRUE Pavilion will be those of some of NATRUE's founders, such as Weleda, PRIMAVERA, Laverana and LOGOCOS. Other NATRUE members and label users such as Dr. Bronner's, Fair Squared, Farfalla or Santaverde will also be part of the NATRUE Village.
The NATRUE Pavilion in VIVANESS 2020
NATRUE will co-exhibit in the NATRUE Pavilion (Hall 3C – 431) at VIVANESS 2020 with the following NATRUE label users and third-party manufacturers:
Know all about the NATRUE Label

The NATRUE Team warmly invites all VIVANESS visitors to the NATRUE Pavilion (Hall 3C – 341) from 12 to 15 February 2020 to find out more about the work of NATRUE and the NATRUE Label. In the VIVANESS 2020 edition, visitors will have the opportunity to have an immersive experience in the NATRUE world by visiting the NATRUE Pavilion and the NATRUE Village, in which all NATRUE label users will present their brands and their latest products. Detailed information about the NATRUE label as well as about the certification process to obtain it will also be available in NATRUE's stand as well as in NATRUE Approved Certifiers' stands.
Keep up to date with the latest developments in the NOC sector
Key developments in the natural and organic cosmetics sector and trends for 2020 will be covered by Dr Mark Smith, NATRUE's Director General, in the presentation "Evolving Legislation: in 2020, what's impacting the natural and organic cosmetics sector?". Dr Mark Smith will also participate in the panel discussion "Backing the Certified Organic Sector in the EU". Dr Hana Mušinović, NATRUE's Regulatory and Scientific Manager, will be part of a presentation and panel discussion about the benefits of sustainable palm oil in the cosmetic industry with representatives from RSPO and FiBL. Find more details below: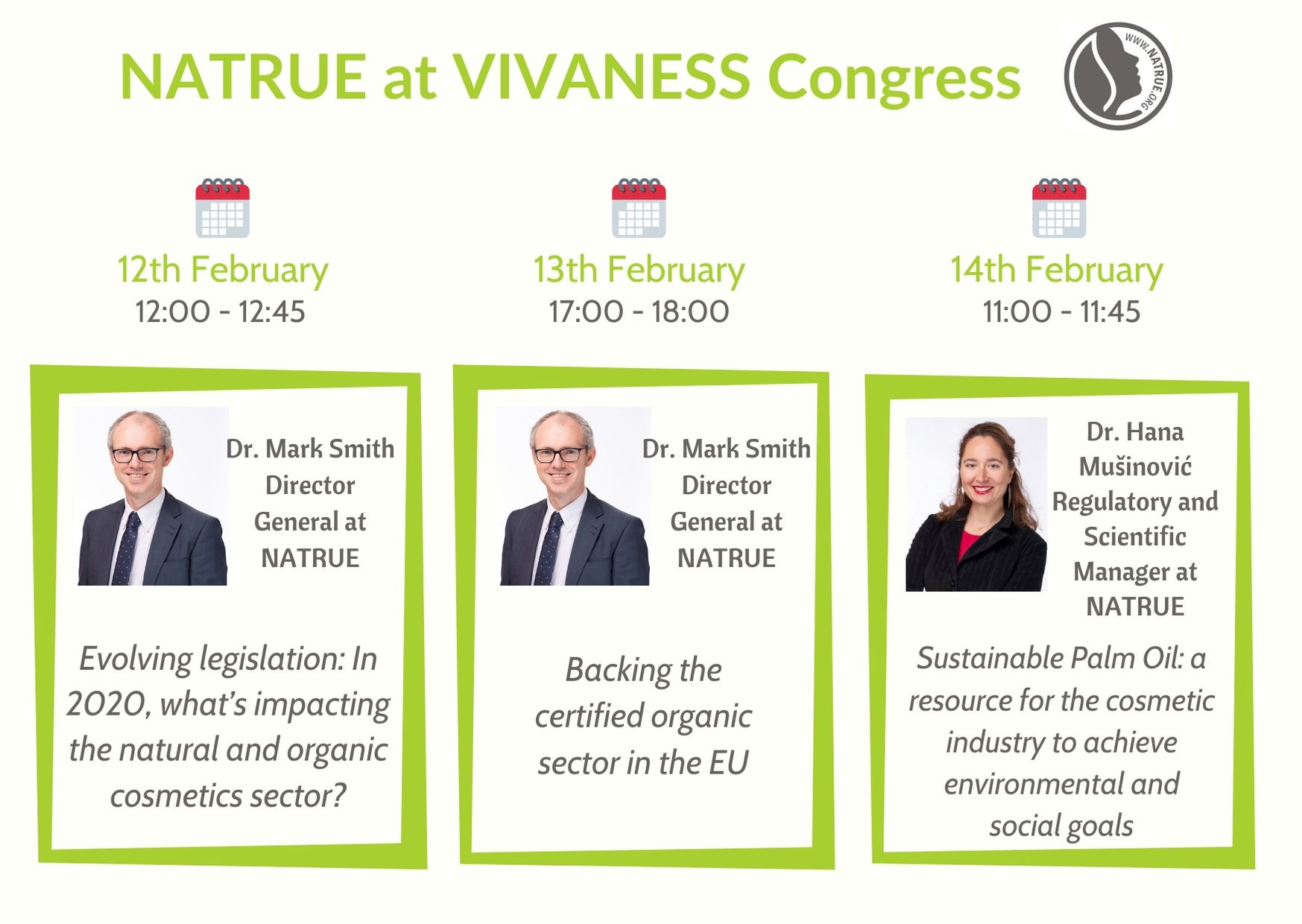 Stay tuned and follow NATRUE in Facebook, LinkedIn, Twitter and Instagram for more details
We look forward to meeting you at VIVANESS 2020!
   The NATRUE Team
Press enquiries:
Ana Ledesma
aledesma@natrue.eu
Telephone: +32 (0)261 329 35
Download this article here.