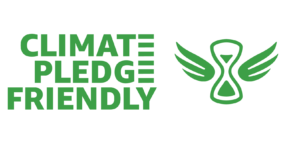 The NATRUE Label is now included in Amazon's Climate Pledge Friendly Certifications, an initiative aiming to help consumers to identify more sustainable products. From now on, our seal will feature on Amazon's websites in all European countries where the project is implemented (France, Germany, Italy, Spain, and UK).
Consumers have the right not to be misled by marketing "ploys" from nature-inspired brands. Consequently, in addition to being a high-quality benchmark for producers, NATRUE has long since taken a leadership position to keep greenwashing off the shelves and give consumers the possibility of purchasing truly natural and organic cosmetics, independently certified according to the strict requirements set in its Standard.
"We're delighted to be expanding our Climate Pledge Friendly programme to more than 100,000 products in Europe with new sustainability certifications such as NATRUE. Climate Pledge Friendly has been designed as a simple way for our customers to shop more sustainably and forms an important part of our commitment to building a sustainable business for our employees, customers, and communities. We're excited to have NATRUE on-board and provide yet more sustainable choices for our customers", said Zak Watts, Amazon's Director of Sustainability in Europe.
NATRUE's mission has always been to protect and promote natural and organic cosmetics to the benefit of consumers worldwide. Part of the association's work involves developing and setting comprehensive label criteria for certified natural and organic cosmetics, covering ingredient sourcing and environmental impact, product formulation, packaging, and ethical requirements. Currently, over 7,000 cosmetic products covering in excess of 320 brands worldwide, and more than 1,000 raw materials, carry the NATRUE Label.
For more information about The Climate Pledge, visit  https://www.amazon.co.uk/b?ie=UTF8&node=22423251031